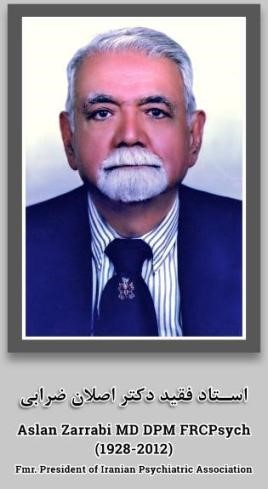 The library of the IMSAT was established by the family of the Professor Aslan Zarabi. He was one of the
brilliant psychologists in the country. He was born in 1928 in Kashan. Due to his great interest in acquiring science and tourism, he spent his high school in France and after returning to the country, he received a degree in general medicine in 1952 from the medical school of the University of Tehran. The professor went to England to continue his scientific degrees and obtained a specialized diploma in psychiatry from the Royal College of Physicians in London in 1344 and became the first Iranian to become a distinguished member of the Royal College of Psychiatrists of England. During his years in the UK, Dr. Zarabi took on various clinical responsibilities at various levels up to the consulting level of various centers such as Moodlesley Psychiatric Hospital, London National Neurological Hospital, University of Southampton Psychiatry,
and University of Edinburgh Psychiatry. And a scientific member in the psychiatric addiction department of San Francisco, etc. Eventually, the atmosphere of Yaran Pars and the people of this Pakbum prompted him to return to his homeland and devote the rest of his life to serving science in Iran.
Responsibilities of Dr. Zarabi in Iran: Director of Azgol Hospital (Workers' Social Insurance (1344-50); Director of Razi Hospital and Psychiatric Center (1350-13); Founder and Head of Mental Health Office in the Ministry of Health 1353 2001), and was the President of the Iranian Psychiatric Association for two terms, official membership in French-speaking associations and congresses of psychiatry and neurology; member of the French Psychiatric Association; member of the High Council of Welfare Addiction; Nerves of the University of Social Welfare and Rehabilitation Sciences; presenting hundreds of articles in conferences and scientific journals in Iran and many countries; teaching exceptional children in Iran since 1346 is one of the scientific and educational services of this late professor. He studied books on history, religions, philosophy, literature, psychiatry, and neuroscience, and therefore had a collection of valuable books in his personal library. And they were his loyal friends Redand and he also established a library named after him in the Research Institute of Medical Sciences and Technologies thanks to the efforts of the professor. May students use this library to remember the deceased and, like him, take steps to teach science and serve Iran.